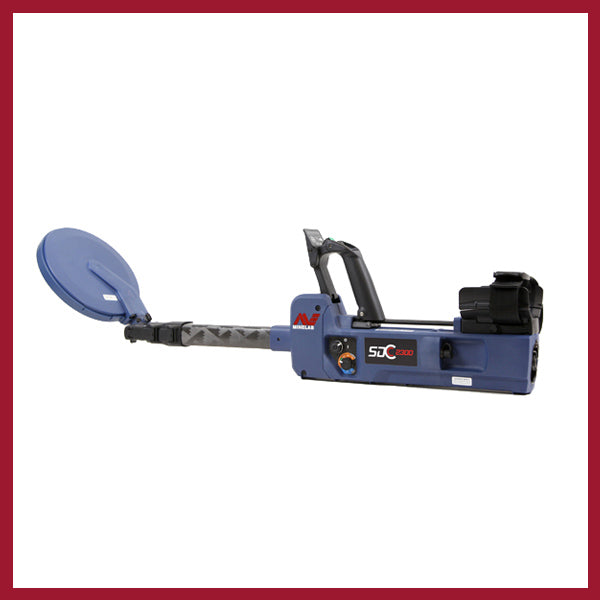 SDC2300
Save

13

%
Save

13

%
Original price
$4,599.00
-
Original price
$4,599.00
3230-0003

This is the new Lithium Ion version of the SDC2300.
 They say the best things come in small packages!
This is certainly true for the SDC 2300. It's compact, waterproof and built to perform in the toughest conditions. Undiscovered gold patches on land and underwater won't stand a chance when the Minelab SDC 2300 gold detector makes its debut.The SDC 2300 is a high performance mid-range gold detector, perfect for chasing down those elusive sub-gram nuggets both on land and underwater.
From Minelab, the company that knows Gold, this compact waterproof gold detector comes with easy-to-use controls and is assembly-free! Let the versatility of the SDC 2300 open up a whole new range of possibilities for finding more gold nuggets!
If you're looking for an easy to use yet powerful detector, a good beginner machine, a detector to clean up all the bits that we generally leave behind or a detector for the wife to use, then this might be the one.
Features
Waterproof Capability
Fully submersible to 10' (3m) for detecting riverbeds and shorelines allowing you to transition with ease from land to water.
Compact Size
Folds to small portable size, 8 ½ " (216mm) by 16" (406mm). Fits into carry-on luggage and most backpack.
This machine might be small but it is extremely powerful and finds a multitude of nuggets that the others leave behind, and is dead easy to use. If you are after a mid range beginner machine with plenty of performance then this is the detector to look at. Very few controls coupled with ease of use make it a very beginner friendly, and expert detector as well.
NOTE: The SDC2300 now comes with a different set of headphones that have a replaceable input cable. The Lithium battery has been replaced in the short term with the standard NiMh that previous SDC2300's have had due to a worldwide shortage of Lithium being available.
We offer dealer advice on operation of this machine to customers that purchase one of these from us.

As express shipping is not available, this item will be posted parcel post with a signature required sticker.
Specifications
Video
Brochure