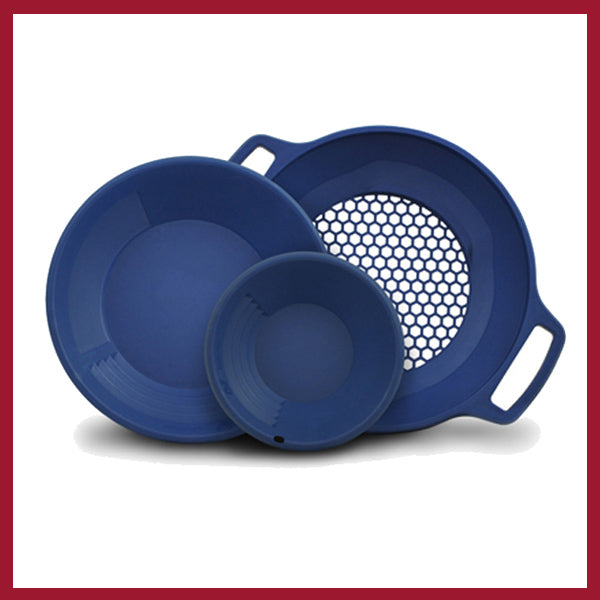 Gold Pan - PRO-GOLD kit
Save

0

%
Save %
Original price
$89.00
-
Original price
$89.00
3011-0325
Panning kit
Everything you need to get started!
Discover gold the easy way with the Minelab PRO-GOLD range of high quality pans and accessories. This premium panning kit has everything you need to get started and you'll become an expert in no time. Prospecting for gold has never been so much fun!
The PRO-GOLD kit features two premium quality pans and a versatile classifier. They're constructed from durable lightweight polypropylene, are UV-resistant and float in water.
The 10-inch pan has the large 90° riffles and flat sidewall. It's great for panning lighter loads and suitable for beginners and children.
The 15-inch pan features three separate panning zones. A versatile combination of 90° riffles, mini riffles, and flat sidewall allow efficient recovery of all of the gold using multiple panning techniques.

Remove large rocks with the classifier by sifting the coarse aggregate materials into the gold pan. It's sized perfectly to fit on top of a standard 5 gal. (20 L) bucket, and the two handles make it comfortable to use.

The handy lightweight carry bag will help you keep everything in one place. Using the pull-strings, it converts to a backpack for easy kit transportation.

Also Included in This Kit:
• Iron-Separator Magnet
• Double-Loupe Magnifier
(3×, 5× magnification)
• Vacuum Suction Bottle
• Gold Transfer Pipette
• Micro-Gold Storage Vials
• Getting Started Guide